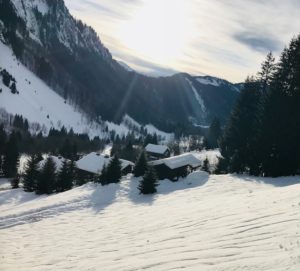 Contact details
Our contact details for your requests for information, and for a warm and personal welcome:
Chalet 1864
2645, route de Lormay
74450 Le Grand Bornand
France
+ 33 4 50 02 28 50
contact@chalet1864.com
To find us
From Paris or from Geneva (A40 towards Chamonix)
Exit 16: Bonneville – Le Grand Bornand – La Clusaz
Then follow signs for Le Grand Bornand
From Le Grand Bornand
Take the Grand Bornand village church as your reference point.
Leave the village and continue straight on towards the Bouchet valley.
After 5 km you will reach the hamlet of Les Plans with a little chapel in front of you.
Turn right at the chapel.
Continue straight on for around 3 km.
You will pass L'Auberge nordique, then the Lormay farm, keep going – we are the last chalet on the left.
From Valence (A41)
Annecy Nord exit.
Head towards Thônes – Aravis stations.
Then Saint Jean de Sixt – Le Grand Bornand.
Other
You can also plan your route on Mappy or using your Satnav
Enter "Lormay" for the street (we are 1 km further on, straight ahead) or the following coordinates: 6°30'44'' E – 45°56'57'' N
For transfers
Transfers from Geneva, Lyon and Annecy train stations or airports available upon request.